"Luminous colour, constant in my work, reflects what delights my eye. Ceramic pieces formed and sculpted, then painted in a water colour style, acknowledge the tradition of floral symbolism in art that signifies feminine beauty, fertility, the natural and philosophical worlds. Through symbolic significance, floral decoration becomes a vehicle for contemplation, elevating the everyday object".
Susan Card (B.H.Ec., B.F.A. - University of Manitoba) has exhibited her ceramics and published articles about ceramics for over twenty-five years. In 2006, Card opened DISH GALLERY + Studio in the Toronto Distillery District. Colourful porcelain and sculptural smoke-fired pottery produced in her studio is commissioned by private and corporate clients and has been exhibited in galleries in Toronto, London, Waterloo and Montreal, Canada.
Susan taught at Sheridan College, Oakville, Ontario for several years and for the City of Toronto at Cedar Ridge Creative Centre. Presently she teaches hand building pottery in her Distillery District studio several days a week and pottery wheel throwing classes on Wednesday evenings at the new Toronto Potters Studio at Artscape Youngplace at 180 Shaw Street in the Queen West area of Toronto.
Currently an enthusiastic volunteer board member for the Collections Committee at the Art Gallery of Burlington, Susan is a former Board Chair of FUSION: The Ontario Clay and Glass Association, a former Board member for the Toronto Outdoor Art Exhibition and a past President of Toronto Potters. While maintaining her studio practice and gallery, she also volunteers on the executive of two pottery guilds organizing speakers programmes. She has been instrumental in working with the Toronto Potters Association executive in opening the Toronto Potters Studio at Artscape Youngplace in 2018.
In the use of floral motifs on my functional porcelain objects, I propose that their decorative strength lies in cultural traditions of floral symbolism and its symbolic significance.
As a relief from the intensity of the complex decorating process characteristic of my porcelain objects, I enjoy making smoke fired pieces because of the sense of immediacy implicit in the process.
Smoke firing is a simple method of firing pottery in which smoke becomes an integral part of the surface decoration. Inspiration has been drawn from "primitive" firing traditions still used today in many parts of the world. Examples of smoke firing can be found in the Neolithic Period (7000-3000 BC.) To prevent damage during the heating and cooling process, a form with a constant wall thickness is skillfully constructed. Some pieces are covered with a layer of fine clay and burnished; others reveal the raw clay surface. The pottery is first fired to 1000 C. in an electric kiln. Then, pieces are covered with a variety of organic materials and placed in a bonfire. No glaze is used. During the firing, a blackening or carbonization occurs on the pottery surface. Because smoke fired pottery is fragile and porous, it is non-functional, and not designed to be used with food.
Creatures are fantastical forms worked in clay. Often looking like siblings, pieces in a series either assert themselves in a familiar way for everyday use, or as bizarre amusing creatures that question, entertain and challenge. Inspiration comes from the relatively unexplored world of our oceans, which provide both historical information and possible future materials contributing to our survival on this planet. Our oceans must be respected and protected.
Sculpture and Installations
Reflecting on my ceramic practice, celebrated Canadian poet David Bateman pointed out certain consistent themes. Strength and balance, delicacy and fragility have underscored my functional and sculptural work in clay, and by extension, exhibit both my disquiet with the fragility of life while resolving to support our community/family.
My sculptural practice admits the duality of strength and fragility that exists in life, in family, and in community.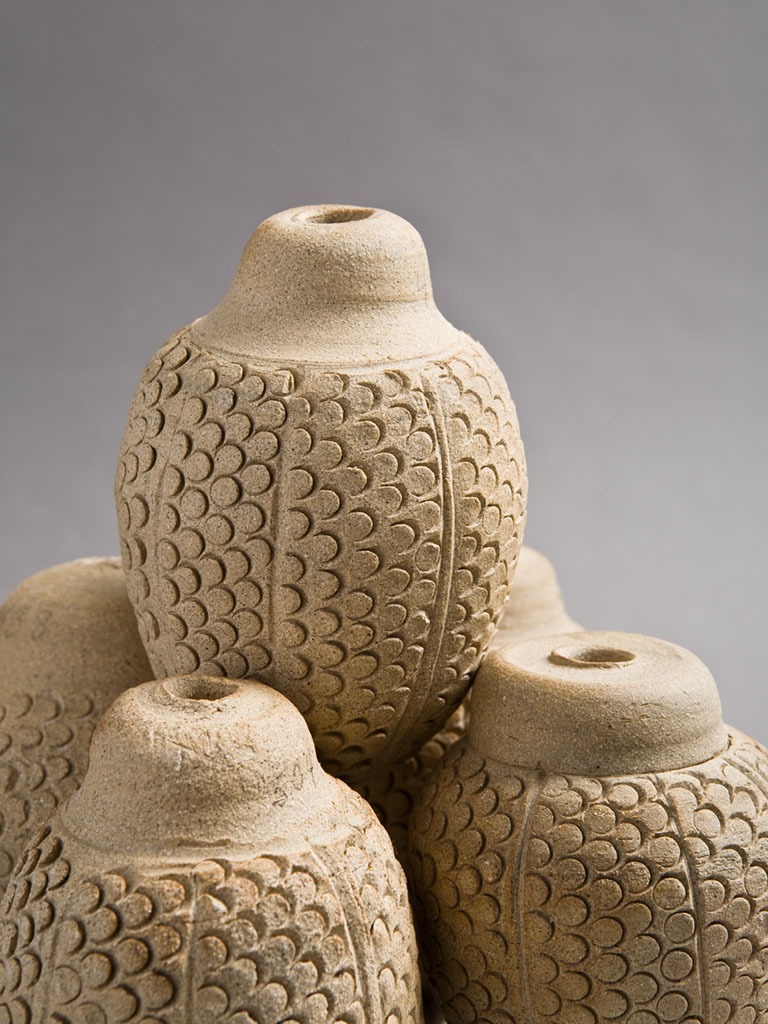 The Stardust Series is produced in a large gas-fired kiln in reduction. As in painting, where colour is used for evocative effect, the ceramic artist draws on a knowledge of chemistry to create ceramic color for emotive effects through juxtaposition of colour in abstract works. During the firing of a propane or natural gas kiln, the desired glaze colour results from the variety of atmospheres - neutral to oxidizing to reduction (lack of oxygen) - that have to be controlled by the potter to achieve both a rise in temperature and specific colours desired.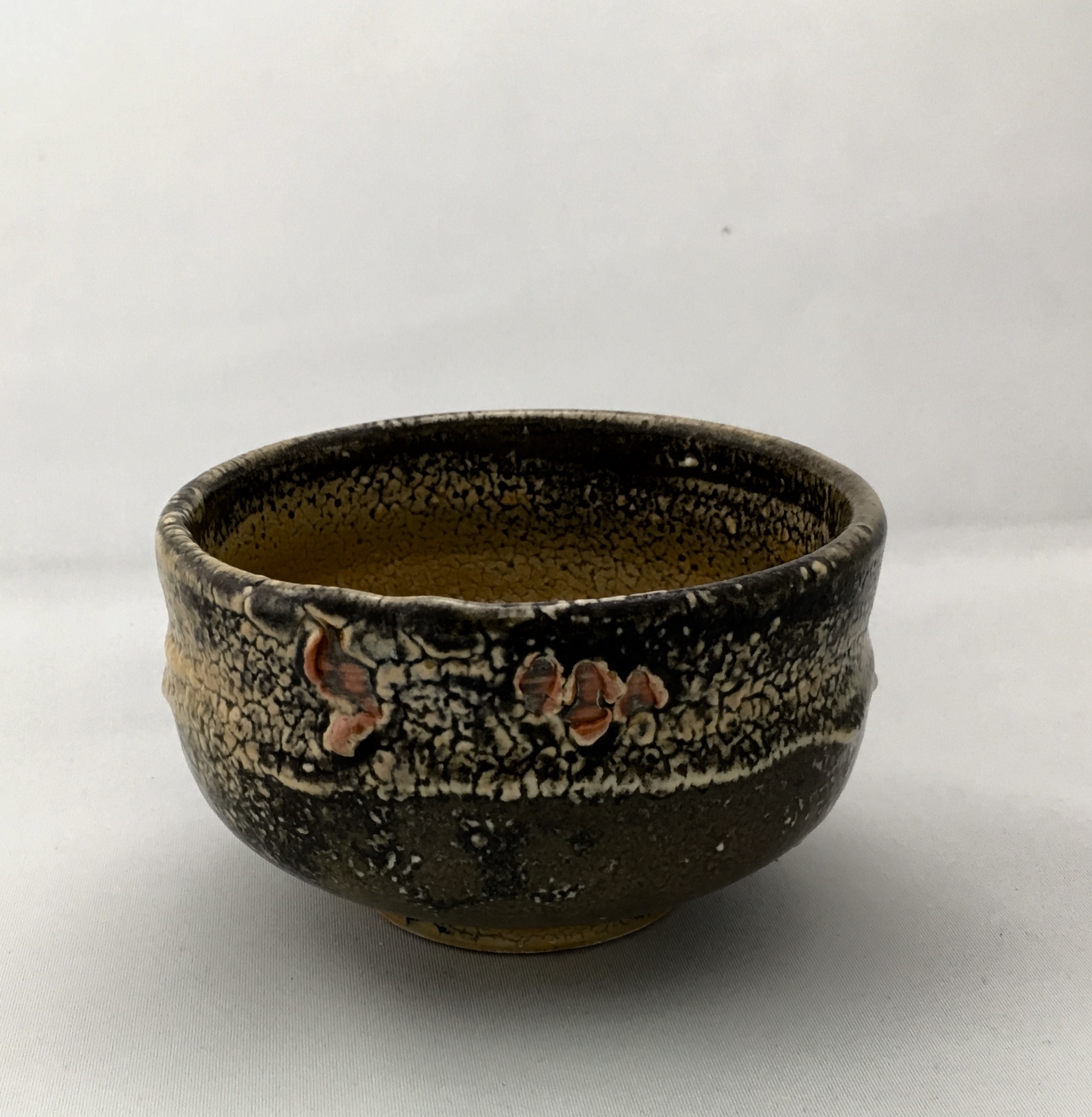 The Ocean Series deals with issues of water conservation, species mutation, and climate change. Inspiration for the series comes from the natural world and the ubiquitous array of exotic life forms in the ocean. A relatively unexplored world, the oceans provide both historical information and future materials contributing to our survival on this planet. However vast in quantity, a chilling truth about water is that the earth has a finite amount. This series aims to call attention to the fact that our oceans must be respected and protected